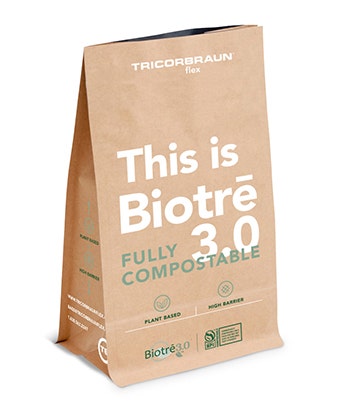 Improve your brand's sustainability story with our plant-based and compostable flexible packaging solutions.
For over ten years, TB Flex has been committed to developing and improving our sustainable packaging options. As new material technologies have been introduced, our Biotrē™ packaging has evolved from partially compostable to fully compostable. Buying a bag with the Biotrē™ name means you have partnered in this commitment to make an impact on packaging waste reduction, less fossil fuel use, and reducing global climate.
Where Innovation and Responsibility Meet
Biotrē™ is TricorBraun Flex's flexible packaging film made from plant-based, renewable, and compostable resources, including wood pulp and sugar cane. These signature Biotrē™ bags available in block bottom bags, side-gusseted bags, and stand-up pouches exemplify our relentless focus on innovation and our commitment to bringing sustainable packaging to the coffee and specialty markets.
The Evolution of Compostable Packaging
At TricorBraun Flex, we are continuously working on the next generation of sustainable options—and the evolution of Biotrē™ packaging reflects our journey. We currently offer three versions of our signature products:
Biotrē™ 1.0 is 60% compostable and 60% plant-based renewable
Biotrē™ 2.0 is 60% compostable, with nearly all plant-based, renewable film layers.
Biotrē™ 3.0 is certified compostable (>90%), with majority (~80%) plant-based, renewable film layers.
Each version of Biotrē™ has been tested using ASTM D6868 standards.
Links
What is Biotrē™?
The outer layers of Biotrē™ 1.0 and 2.0 consist of natural kraft paper and cellulose made from wood pulp.
The latest version, Biotrē™ 3.0, has passed all requirements under ASTM D6868 standards and received third-party verification as compostable from the Biodegradable Products Institute (BPI). This means that the entire bag has been shown to break down in an industrial composting environment into healthy compost in 90 days. Biotrē™ 3.0 can be disposed of in curbside composting bins, if available.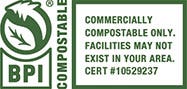 How to Dispose of Biotrē™ Bags
To dispose of a Biotrē™ 1.0 or 2.0 bag, it's recommended to remove the valve and zipper before placing the bag in your home compost. After 12 weeks remove any remaining bag material and throw away in your trash. Biotrē™ 1.0 and 2.0 should not be disposed of in curbside (industrial) compost.
Biotrē™ 3.0 can be disposed of in an industrial composting environment or curbside composting bins.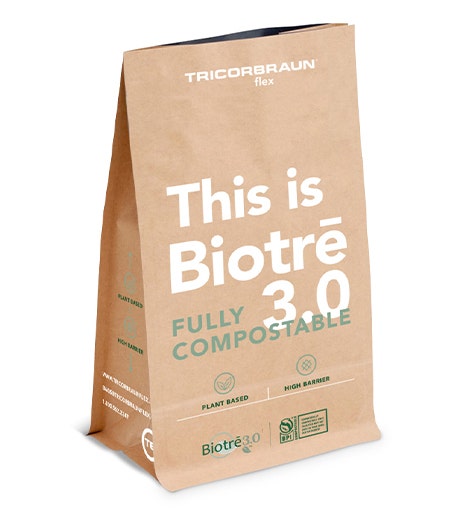 Get In Touch
TricorBraun Flex's proven process will guide your packaging decisions from napkin sketch all the way to the retail shelf. Click below to get started.